Trevor Lawrence is an American football quarterback for the Jacksonville Jaguars of the National Football League (NFL).. Today we will know about Trevor Lawrence Short biography – His Personal Information, about his family members, love life , career and many more…..
Trevor Lawrence Personal Information (Trevor Lawrence Biography )
Trevor Lawrence is an American football quarterback for the Jacksonville Jaguars of the National Football League (NFL). His Full name is William Trevor Lawrence and fans and teammates have given him the nickname 'Sunshine,'. He was Born on October 6, 1999 in Knoxville, Tennessee, USA. In 2022 He is 23 years old. Trevor Lawrence's faith in Jesus Christ is more important than football so we called He is Christian. Trevor Lawrence was born in the zodiac sign Libra. If we talking about his Physical Appearance , He is 6 ft 6 in (1.98 m) tall and have long blond hair.
Trevor is a alumni of Cartersville High School , Bartow County, Georgia, United States and Clemson University (2018-20) . During studying in Clemson University , Played Football for College Team " The Clemson Tigers"
Trevor Lawrence Family members
Trevor Lawrence Parents
He is Born to His Parents Amanda Lawrence (Mother) and Jeremy Lawrence (father). His father Jeremy Lawrence works for a steel company, Gerdau, as the safety and environment manager. His Parents have 3 children ( 2 sons and one Daughter) – Chase Lawrence (Oldest son) , Trevor Lawrence (middle son ) , and Daughter Olivia Lawrence is Yougest to Three Children.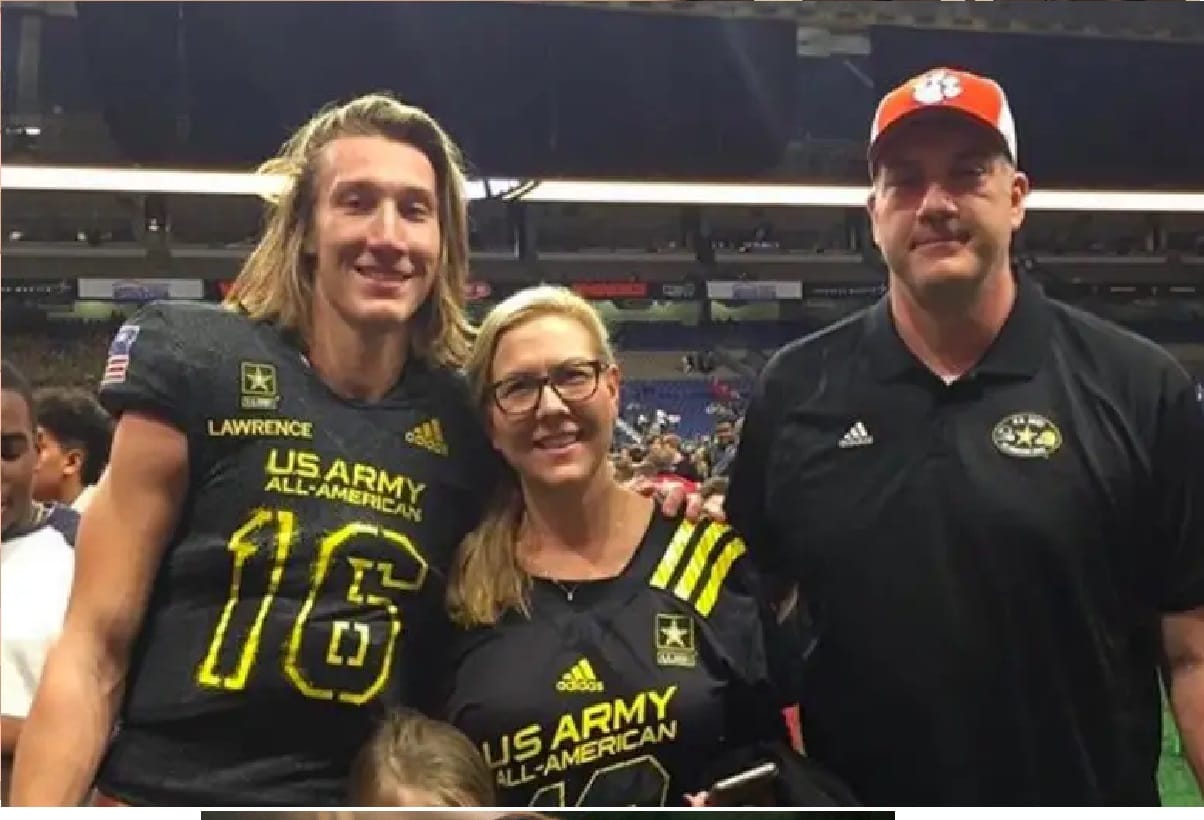 Trevor
Lawrence Parents – Mom, Dad
Trevor Lawrence is five years younger than Chase Lawrence and Olivia Lawrence is 11 years younger than Chase Lawrence. Chase Lawrence is an artist , sculptor and a painter .
Trevor Lawrence. Girlfriend/ Relationship
Trevor Lawrence Long time Girlfriend is Marissa Mowry . Mowry and Lawrence have been together since 2016, Later Both Married in 2021. Marissa also played soccer as a forward at Anderson University.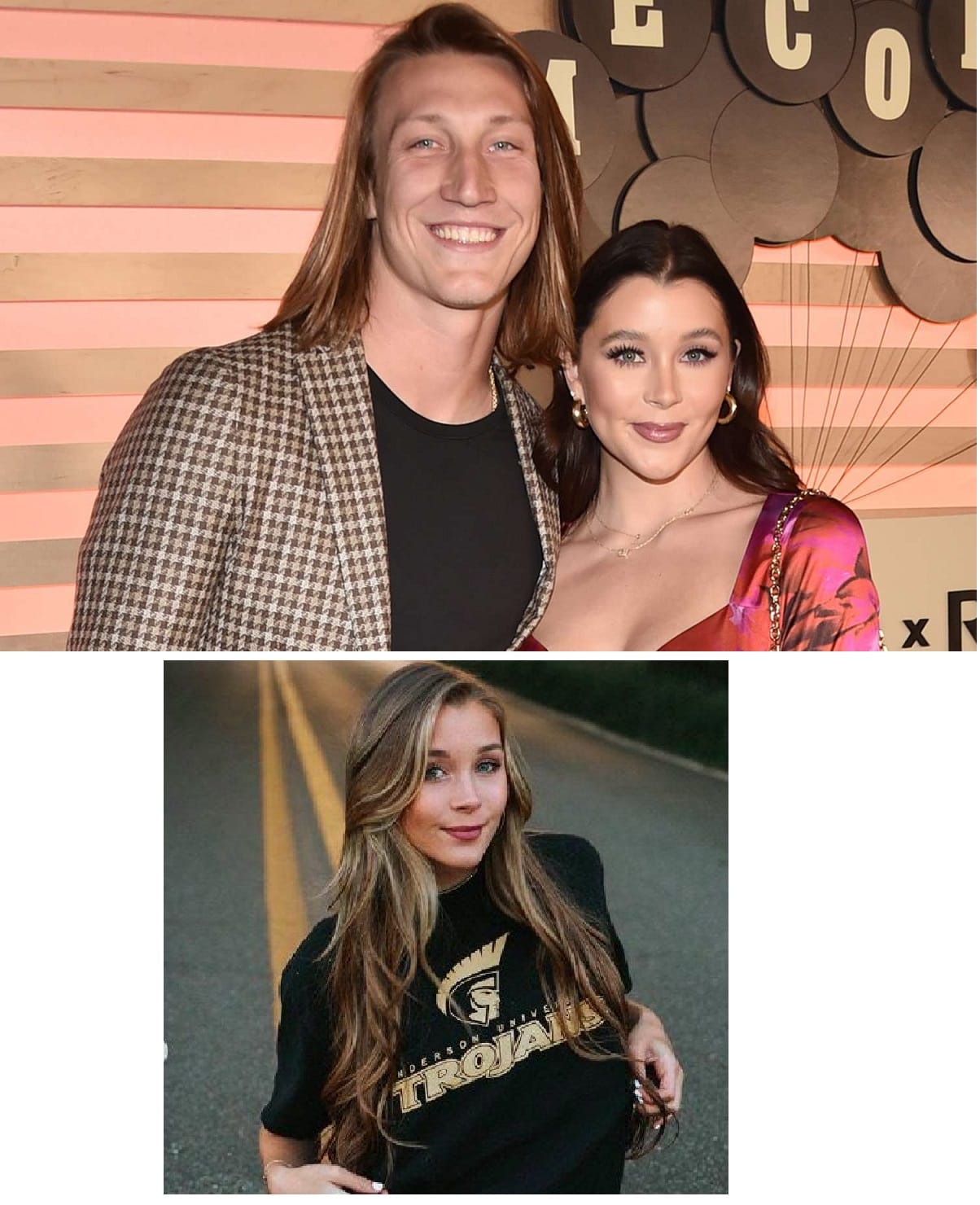 Trevor Lawrence Wife Marissa Mowry
Trevor Lawrence

career information
Trevor Lawrence is a professional American football quarterback who is currently the starting quarterback for the Jacksonville Jaguars of the National Football League (NFL). He played college football at Clemson University, where he led the Clemson Tigers to a national championship in 2018 and was a two-time consensus All-American. Lawrence was widely considered one of the best quarterback prospects in the history of college football and was selected first overall by the Jaguars in the 2021 NFL Draft. Prior to his professional career, Lawrence was a highly decorated high school football player, earning numerous accolades and awards for his performances on the field., Lawrence was named the Jaguars' starting quarterback for 2021 and Making his NFL debut against the Houston Texans .
Trevor Lawrence's lookalike, Bella Martina . Many Fans Thinks that Bella Martina is her sister. But there's no relation between Martina and Lawrence. His real sister is Olivia Lawrence, who is much younger than Bella Martina.
Bella Martina and

Trevor Lawrence
Other Links
---
Disclaimer: The above information is collected from internet for general informational purposes only. All information on the Site is provided in good faith, however we make no representation or warranty of any kind, express or implied, regarding the accuracy, adequacy, validity, reliability, availability or completeness of any information on the Site.