Rosalynn Carter
Short
Biography
:
Rosalynn Carter, Full Name Eleanor Rosalynn Smith was Born on August 18, 1927, is an American former First Lady and activist. She served as the First Lady of the United States from 1977 to 1981 during the presidency of her husband, Jimmy Carter ( Political party Democratic ) . Eleanor Rosalynn Carter is the wife of 39th American President Jimmy Carter.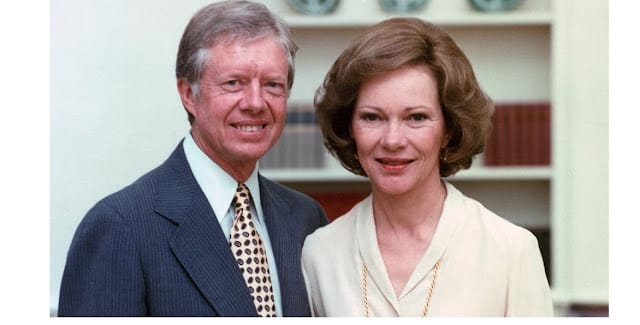 Rosalynn Carter with Jimmy Carter
Rosalynn Carter was born and raised in Plains, Georgia. She met Jimmy Carter, then a student at the United States Naval Academy, in 1945, and they married on July 7, 1946. They have four children together: Jack, James Earl III (Chip), Donnel Jeffrey (Jeff), and Amy.
During her time as First Lady, Rosalynn Carter focused on a wide range of social and policy issues. She played an active role in shaping her husband's policies, particularly in areas such as mental health, women's rights, and human rights. She advocated for the rights and well-being of mental health patients, working to reduce the stigma surrounding mental illnesses and improve access to mental health services.
In 1982, Rosalynn Carter co-founded The Carter Center, a non-profit organization dedicated to advancing peace and promoting human rights worldwide. The Carter Center has been involved in numerous humanitarian and public health initiatives, including efforts to eradicate diseases such as Guinea worm disease and river blindness.
After leaving the White House, Rosalynn Carter continued her advocacy work. She has written several books, including her memoir "First Lady from Plains" and "Helping Someone with Mental Illness: A Compassionate Guide for Family, Friends, and Caregivers."
Throughout her life, Rosalynn Carter has received numerous awards and honors for her contributions to society, including the Presidential Medal of Freedom, the highest civilian honor in the United States. She remains active in public life and continues to support various causes through her work with The Carter Center.
Rosalynn Carter is known for her compassion, intelligence, and dedication to public service. She has left a lasting impact on the role of First Lady and has been an influential figure in advocating for mental health and human rights.
Rosalynn Carter Personal Info :
Full name :

Eleanor Rosalynn Carter

Profession :

American writer and activist

Nick name :

—-

Date of birth :

August 18, 1927

Age on 2023:

95 Years

Birth place :

Plains, Georgia, U.S.

Nationality :

American

Race/ Ethnicity :

Gender :

Female

Religion :

Baptist

Zodiac :

Leo

Height :

5′ 5″ (1.65 m)

Net worth (approx):

$10 million dollars.

Death :

Alive

Death Place :

Cause of Death :
Rosalynn Carter
Education :
High School :

Plains High School

College :

Georgia Southwestern College
Rosalynn Carter
Parents : Father and Mother
Father's Name :

Wilburn Edgar Smith

Profession – auto mechanic, bus driver and farmer

Mother's name :

Frances Allethea "Allie" Murray Smith

Profession – teacher, dressmaker and postal worker.
Rosalynn Carter
Siblings : Brother and Sister
Siblings :

Four

She was the eldest of four children Of Parents.

Brother's Name :

William Jerrold "Jerry" Smith (1929–2003)
Murray Lee Smith (1932–2003)

Profession – teacher and minister.

Sister's Name :

Lillian Allethea (Smith) Wall (Born 1936)
Rosalynn Carter Boy
friend and Husband Name :
Marital Status :

Married ​in 1946

Spouse (Fiance) :

Jimmy Carter

39th American President (1977 – 1981)

.
Rosalynn Carter
Kids/ Childrens : Son and Daughter
Children :

Four

Son's Name :

John William "Jack" (Born – 1947)

James Earl "Chip" III (Born – 1950)

Donnel Jeffrey "Jeff" (Born – 1952)

Daughter's Name :
Unknown, Intresting and Rare Facts About Rosalynn Carter :
Rosalynn was named after Rosa Wise Murray, her maternal grandmother.
Latest News Related to Rosalynn Carter :
Former first lady Rosalynn Carter, a longtime advocate for mental health care, has been diagnosed with dementia, her family revealed on Tuesday.
Disclaimer: The above information is collected from the internet for general informational purposes only. All information on the Site is provided in good faith, however we make no representation or warranty of any kind, express or implied, regarding the accuracy, adequacy, validity, reliability, availability or completeness of any information on the Site.
Tags:
Rosalynn Carter, first lady rosalynn carter,